The Do's and Don'ts of Camping Gear. What You Need and What You Don't
Camping is one of those activities that can be enjoyed at different levels. Fancy a camping vacation in some exotic location with a million-dollar RV complete with a boat in the back? Done. Want to get away from it all instead with a solo adventure in one of the many beautiful state parks for next to nothing? Also done. For most of us though, camping is very much in-line with how we live our lives already and there are certain things that you absolutely must take with you for a great (and safe) camping trip and certain things that can easily be avoided to save time and effort. Here's our comprehensive list.
What to Take With You When Camping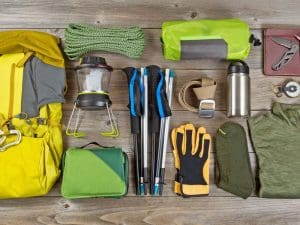 A Sturdy Tent with a Rainfly
When camping in Massachusetts, it's important to have a tent that can withstand whatever Mother Nature throws your way. A sturdy tent with a rainfly is essential for keeping you and your camping gear dry even during the heaviest downpours. A quick tip before you buy a tent or take the one you already have is to research where you're going. Different tents are built for different terrains and climates, so making sure you have the right tent before you're off is key to a good camping trip.
Sleeping Bags + Sleeping Pads + Pillow
Other must-have items when camping in Massachusetts are sleeping bags and sleeping pads. A quality sleeping bag will keep you warm during chilly nights and a good sleeping pad will make sure you get some much-needed restful sleep. Make sure to check the ratings on your sleeping bags and pads so that you know they'll be up for the job ahead of time.
Cooking Gear
Having the right cooking gear is essential for a successful camping trip. A good camping stove and fuel will be your best friend and having a cast iron skillet is great for cooking over an open fire. Don't forget to bring along the pots, pans, and utensils you'll need to make some delicious camping meals. A quick note here: in one of our other articles, we outlined the ways you can reduce your impact on the environment and be an advocate for eco-camping or zero-impact camping. Make sure to check it out.
First Aid Kit
A first aid kit is always a must-have when camping anywhere. Having one on hand can save you in an emergency and it's generally a good idea to have one whether you're camping or not. Depending on who you're camping with, it may be wise to get a kit specifically for camping use; these usually come pre-packaged with the items you'll need for any kind of outdoor adventure.
Headlights, Torches, Flashlights, and Batteries
Having good lighting is important when camping, both for safety purposes and to make sure you can see where you're going. Headlamps are great for hands-free camping activities like setting up tents, starting fires or navigating trails at night. Torches or flashlights with extra batteries should also be taken with you just in case your headlight runs out of power.
Ample Undergarments & Socks
Probably one of the most overlooked items when camping is enough underwear and socks. When camping, you're usually outside all day in the sun and sweat a lot, so it's important to bring enough undergarments to keep you comfortable during your stay. A good rule of thumb is to double up on the number of undergarments and socks you bring so that you always have a clean and dry pair to change into.
Insect Repellent
Massachusetts has some of the most beautiful landscapes and forests in the United States, but it also has its share of pesky insects. So, it's a good idea to bring along insect repellent for protection against mosquitos, ticks, and other bugs.
Good Quality Shoes
Good shoes are essential for any camping trip. When camping in Massachusetts, it's important to wear shoes that can handle different terrains and keep your feet dry and comfortable. Make sure to bring a pair of hiking boots, sandals, or running shoes so you can explore without worrying about foot injuries or blisters.
A Comfortable Camping Chair
A camping chair is a camping essential because it allows you to sit back and relax at your campsite after a long day outdoors. Make sure to get a comfortable chair that you can easily pack away when it's time to go and is sturdy enough to take your weight on uneven ground and is preferably waterproof.
These are just some of the items we recommend bringing with you on your next camping trip to Massachusetts. With the right gear, you'll have a memorable and enjoyable camping experience. So, make sure to pack all the essentials and take off on your next outdoor adventure!
What Not to Bring When Camping
Tons of Additional Gear
When packing for your camping trip, it can be easy to overpack. While you may think that having extra gear is better than not having enough, it can lead to a more overwhelming experience. To avoid this, make sure to only bring what you need and leave behind any unnecessary items.
Single Use Plastics
Plastic waste is one of the biggest environmental issues we're facing today and camping can be hard on the environment. Make sure to avoid single-use plastics while camping and use reusable items whenever possible. Investing in a good water bottle, utensils, and containers will help reduce your impact on the environment while also providing you with durable long-lasting products.
Fireworks. Obviously.
Camping is a great opportunity to enjoy the outdoors, but it's important to remember that fireworks are banned in most areas. It's best to leave them at home, as they can be dangerous and cause wildfires.
Heavy Coolers
Coolers are essential for camping trips since they keep food fresh and cool, but they can be bulky and heavy. Coolers have gotten a lot lighter in recent years, with some weighing as little as 4-5 pounds. Look for lightweight coolers that are durable and easy to carry.
Electric Heaters
It may seem tempting to bring an electric heater on cold camping trips, but keep in mind that most campsites don't have access to electricity. Instead of bringing a bulky electric heater, invest in a good-quality sleeping bag and other camping essentials that will keep you warm and comfortable. Also, electric heaters are notorious for accidentally igniting burnable or flammable objects near them, so keep that in mind when you're tempted to carry them.
About The Author
The Massachusetts Association of Campground Owners (MACO) is a nonprofit trade association that represents the interests of private campgrounds and RV parks in the state. MACO is the best source of information for finding the best campgrounds in Massachusetts.